If you live longer in Bucharest, you surely need internet (cellphone internet or/and home internet). You can start from prepaid internet, but if you stay longer in Bucharest, making a contract with providers would be the cheapest. In this case, you need to find the cellphone companies in Bucharest to make a contract.
Cellphone Companies in Bucharest Romania
There are 3 major cellphone companies in Bucharest.
Telekom (Germanos)

Vodafone

Orange
1. Visiting Telekom in Bucharest (Germanos in Bucharest)
Which one should you visit, Telekom or Germanos?
On the street in Bucharest, you can find Telekom and Germanos.
Maybe you have heard telekom before, but Germanos not. It is at first a bit confusing, but you can think that telekom and germanos are similar. At Germanos they sell telekom's products. So instead of visiting Telekom, you can visit Germanos and make a contract, if you wish. When you make a contract, you receive an invoice from Telekom. When you make a contract at Germanos, it is a contract with Telekom.
So, this means you can always visit Germanos?
The answer is yes and no. There are things you can do only at Telekom too. In this case you must visit Telekom. But unless you were told that you must visit Telekom, you can visit Germanos.
So depending on where you are, you can decide wheter you visit Telekom or Germanos.
You can find Telekom near metro Piata Romana.
2. Visiting Vodafone in Bucharest
Vodafone is as famous as telekom, so you probably have heard it before.
Vodafone is also everywhere, but for example there is a vodafone shop near Piata Victoriei metro station.
3. Visiting Orange in Bucharest
Maybe you have never heard Orange before, but Orange is also a major company in Bucharest.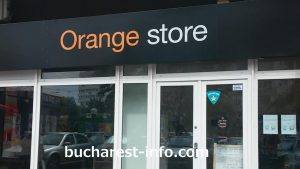 Orange is for example near Universitate metro station.